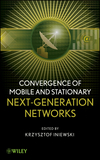 Wiley publishers recently released a new text book named "Convergence of Wireless, Wireline, and Photonics Next Generation Networks". This book is the only resource to cover wireless, wireline, and optical networks in one volume.
Mobile and stationary next-generation networks that access the photonic core are destined to become as ubiquitous as traditional telephone networks. These networks must efficiently provide adequate network quality to multimedia applications with high bandwidth and strict quality-of-service requirements, as well as seamlessly integrate mobile and fixed architectures. Today's engineering students must be properly prepared to meet the challenges of next-generation network development and deployment.
This book featuring contributions from top industrial experts and academic professors, this authoritative work provides a comprehensive introduction to next-generation networks. It explains wireless networks such as wireless local area networks (WLAN), wireless personal area networks (WPAN), wireless access, 3G/4G cellular, and RF transmission, as well as optical networks like long-haul and metropolitan networks, optical fiber, photonic devices, and VLSI chips. Rather than focusing on heavy math or physical details, this resource explores how the technology is being used. It describes access and transport network layer technologies while also discussing the network and services aspects.
This text book covers the following topics:
Fiber–wireless networks: technologies, architectures, and future challenges
Packet backhaul network
Point-to-point microwave backhaul
Fourth-generation broadband: paving the road to Gbit/s with copper
Dynamic bandwidth allocation in EPON and GPON
Next-generation ethernet passive optical networks: 10G-EPON
Power line communications and smart grids
Signaling for multimedia conferencing in 4G: architecture, evaluation, and issues
Self-coexistence and security in cognitive radio networks
Mobile WiMAX
UWB personal area networks—MIMO extensions
Next-generation integrated metropolitan-access network: technology integration and wireless convergence
Resilient burst ring: a novel technology for the next-generation metropolitan area networks